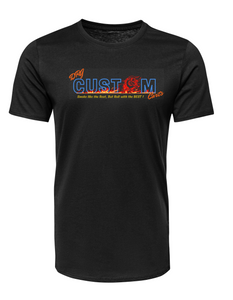 Short Sleeve DRG Custom Cart T-Shirt
Regular price $24.95 $22.50 Sale
The ALL-NEW DRG Custom Carts T-Shirt, designed and built with you, the DRG Custom Carts Family in mind. In a poll I did on Facebook, more family members wanted 100% cotton and they wanted Black. You asked for it and here it is. This is one of Gildons top selling, 100% cotton T-Shirt Now you can show your support, love and pride in the DRG Custom Carts brand, while supporting "SMOKEY" The Bullseye Grill on my custom cart. This design was done by me and will be pressed and shipped by me, not a second hand vendor. Therefore NO Middle Man. 
This shirt is also offered in a long sleeve version. With fall right around the corner you may want to pick one of them up. I look forward to seeing you sport SMOKEY around town and all over Facebook. God Bless my friends. 
CAUTION. Always wash inside out to help prolong the life of the logo.