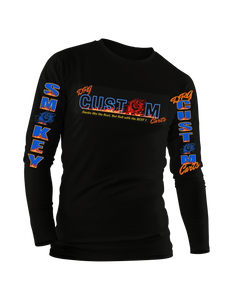 Long Sleeve CUSTOM T-Shirt
Regular price $42.00 $39.00 Sale
ALL NEW - DRG Custom Carts Long Sleeve T-Shirt. This Shirt was built with the DRG Family in mind. You wanted a 100% BLACK Cotton T-Shirt. After designing and building you the perfect T-Shirt, (Sold On other listing) I decided to take it to the next level with the ALL NEW LONG SLEEVE T-Shirt. With the fall and colder weather right around the corner I wanted you to have something to help keep you just a little warmer while standing outside at your grill smoking some AMAZING food. 
This shirt is 100% Cotton, 6oz Heavy Duty. It is one of Gildan's most popular shirts. It sports the NEW DRG Custom Carts Logo across the chest and Smokey down one sleeve and Drg Custom Carts down the other. There is NO Better way to show your love, support and pride then to wear this custom shirt around town, or post pictures of yourself wearing it on Facebook. Keep in mind this product is Pressed and shipped by Me, not a third party. Thank you so much for your support and Love, God Bless you my Friend.  
CAUTION. Always wash inside out, to help prolong the life of the decals.