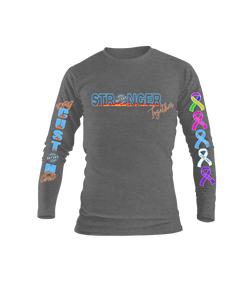 Limited Edition Cancer Awareness T-Shirt & Support
Regular price $0.00 $30.00 Sale
                        REDUCED IN PRICE TO HELP SPREAD THE WORD.                                   Please join me in spreading the word of Cancer Awareness. This shirt has three very important messages from the DRG and RecTeq family. In doing my research to design this very special shirt, I was astounded at the number of U.S citizens diagnosed with cancer in 2022, and the number just keep rising every year.  According to the National Cancer Institute over 3 Million people heard those life changing words in 2022 "You Have Cancer". Take it from me, when you hear those 3 words your whole world STOPS and your life changes "FOREVER". All I could think of at that moment was "Why Did No One Tell Me To Get Tested". My hopes with this shirt is that it will spark a conversation for everyone that sees it, which may get them to get tested early. 
This shirt also holds a very special place in my heart, not only because I am fighting Prostate Cancer myself, but it represents the DRG and RecTeq family pulling together to support me in my personal fight.  Then to take it one step further, with the DRG and RecTeq family  helping me, I was able to Patent the V3 and V4 carts which the family made such a hit starting in 2018, and for that I would like to thank you from the bottom of my heart.
God Bless you for all your support over the years. Let us Pray there will be Many more Memories to be made Together . Just always remember we are "STONGER Together"
I have one last favor to ask of you, If you purchase one of the limited Cancer Awareness Shirts. Once you receive your shirt, would you please take a picture of you wearing the shirt and send it to my special email (payitforwardwithdrg@gmail.com) so you can be added to the "Wall of Fame" in my studio.  Thank you so much for your support.